Summary
Federal & state elections on the ballot:  US Senator, 6 US House members, State House and Senate members
Ballot measures:
The Louisiana Division of Elections & Voting, part of the Secretary of State, oversees all Louisiana elections.
About
Contact
Locations
Secretary of State
8585 Archives Ave.
Baton Rouge, LA 70809
Phone: 225.922.2880
Fax: 225.922.2003
Web
Division of Elections & Voting, Ballot measures
Registering to Vote
General Information
Who can register
To register in Louisiana you must:
be a citizen of the United States
be a resident of Louisiana (Residence address must be address where you claim homestead exemption, if any, except for a resident in a nursing home or veteran's home who may select to use the address of the nursing home or veterans' home or the home where he has a homestead exemption. A college student may elect to use his home address or his address while away at school.)
be at least 17 years old (16 years old if registering in person at the Registrar of Voters Office or at the Louisiana Office of Motor Vehicles), and be 18 years old prior to the next election to vote
not currently be under an order of imprisonment for conviction of a felony. (If you are under an order but have not been incarcerated within the last five years, you ARE eligible to vote unless your conviction was for election fraud.)
not currently be under a judgment of interdiction for mental incompetence
How to register
Use our Register to Vote Tool to fill out the National Voter Registration Form.
Sign and date your form. This is very important!
Mail or hand-deliver your completed form to the address we provide.
Make sure you register before the voter registration deadline.
Election Day registration
N/A
Voting Rights restoration
If you have been convicted of a felony and have questions about whether you can register to vote, visit Restore Your Vote to determine your eligibility.
Registration Status (form)
New Registration (form)
Voting
General Information
Voting as a Student
Learn more from Campus Vote Project about voting for students.
Overseas and Military Voting
You are a Military or Overseas voter if you are in uniformed services, living overseas OR a spouse or dependent of a uniformed services voter. To get registered and vote, you can utilize Overseas Vote Foundation.
If you have additional questions about elections and voting overseas you can use our state specific elections official directory or contact the Overseas Vote Foundation.
Voting with Disabilities
Voters who are physically unable to vote in person at the polls on Election Day and unable to vote in person at the registrar's office may be eligible for the special program for physically handicapped voters. Call your parish registrar of voters office and ask for more details to see if you are eligible. Disabled voters may go to the front of the line at their polling place.
Proof of disability is required to be filed with the Registrar of Voters either in person or through the mail. Proof of disability include:
A complete physicians form
Copy of a current mobility impaired ID card issued by the office of motor vehicles
Copy of current documentation showing eligibility for disability benefits from a government agency
For more information, you can utilize the American Association of People With Disabilities (AAPD) resource.
Early Voting
You do not need a reason to vote early.
Voters who want to vote early for any election may do so in person at their parish Registrar of Voters office or at designated locations in the parish from 14 days to seven days before any scheduled election. For more information on dates and locations for early voting, please use your state's resource.
Vote by Mail (Absentee)
Absentee ballot rules
You may vote by absentee ballot in Louisiana if:
you are a student or teacher located and living outside of your parish of registration, or the spouse/dependent thereof;
you are 65 years of age or older;
you are a minister, priest, rabbi, or other member of the clergy assigned outside of your parish of registration, or the spouse/dependent thereof;
you are or expect to be temporarily outside the territorial limits of the state or absent from your parish of registration during the early voting period and on Election Day;
you moved your residence to another parish more than 100 miles from the parish seat of your former residence after the voter registration books closed (the books close 30 days prior to Election Day);
you are involuntarily confined in an institution for mental treatment outside your parish of registration and you are not interdicted and not judicially declared incompetent;
you expect to be hospitalized on Election Day and did not have knowledge until after the time for early voting had expired; you were hospitalized during the time for early voting and you expect to be hospitalized on Election Day; or you were either hospitalized or restricted to bed by your physician during early voting and on Election Day;
you work or expect to be offshore working and expect to be out of your precinct of registration both during the early voting period and on Election Day because of your employment or occupation;
you are incarcerated in an institution inside or outside of your parish of registration and you are not serving time for a felony conviction;
you are a program participant in the Department of State's Address Confidentiality Program;
you will be sequestered on the day of Election Day; or
you are the secretary of state, an employee of the secretary of state, or an employee of the registrar of voters.
How to get Absentee ballot
Use our Absentee Ballot Tool to prepare your application.
Sign and date the form. This is very important!
Return your completed application to your Local Election Office as soon as possible. We'll provide the mailing address for you.
All Local Election Offices will accept mailed or hand-delivered forms. If it's close to the deadline, call and see if your Local Election Office will let you fax or email the application.
Make sure your application is received by the deadline. Your application must actually arrive by this time — simply being postmarked by the deadline is insufficient.
Please contact your Local Election Office if you have any further questions about the exact process.
What to do next
Once you receive the ballot, carefully read and follow the instructions.
Sign and date where indicated.
Mail your voted ballot back to the address indicated on the return envelope.
Your voted ballot must arrive by the deadline or it will not be counted.
Absentee ballot application deadline
In Person:
By Mail: 4 days before Election Day.
Absentee ballot submission deadline
1 day before Election Day (most voters). Election Day (hospitalized voters).
Elections Alert (Form)
Pollling Information
Polling Place Locator
You can find your polling place by utilizing your state resource.
If you have further questions on your polling place location, please contact your county clerk.
Polling Place Hours
Polls will be open from 6:00 am to 8:00 pm on all Tuesday elections, and from 7:00am to 8:00pm on all Saturday elections.
Poll Worker Information
In order to be a poll worker in Louisiana, you must:
Be registered to vote in Louisiana
Be entitled to compensation
Be at least 18 years of age
Political affiliation required
Be a resident of election precinct
Complete required training
Students who are at least 17 years of age who are otherwise a qualified voter may work if they are registered as a high school senior
Be a registered voter who does not need any assistance
To sign up, contact your local board of elections.
Division of Elections & Voting
The Secretary of State's Elections Division is responsible for:
administering all laws governing voter registration and elections;
maintaining the statewide voter registration system;
scheduling elections and qualifying candidates for elections;
purchasing and maintaining absentee, early voting and election day voting equipment;
programming all equipment with election specific information and delivering and testing on all equipment statewide;
printing and distributing absentee paper ballots;
statewide support of administering elections during early voting and on election day;
election night tally and transmission of results;
paying for all election expenses; and
compiling, reporting and maintaining official elections returns and statistics.
Also, the governor issues and the secretary of state countersigns the official commission that entitles elected or appointed officials to hold office. The secretary of state publishes the Louisiana Roster of Officials, the Louisiana Election Code with all of Louisiana's elections statutes, and the Election Returns Books that contain precinct-by-precinct returns for all presidential and gubernatorial elections.
For more information on the specific duties of election officials, review Election Officials Duties.
History of Elections
For many centuries, people have sought a simple, quick and accurate way of expressing and recording their wishes. The ancient Greeks voted by acclamation, by division into groups or by balloting with shells and bronze disks of different sizes. Another means used consisted of placing a pebble or little ball in an urn, hence the word ballot from the Italian ballotta, meaning little ball. The little balls could have been white in color for an affirmative vote or black for a negative vote. From there came the term blackballed that is still used today to describe rejection. These were forerunners of today's elections with voting machines.
In 139 B.C. the first written ballot was used in Rome. It was not until 1872 that secret voting for elected officials was adopted (in England). The opposition termed it "the deadly mischief of making numbers the sole test of public opinion." The first record of the use of the secret ballot in America was in 1629 when the members of the Salem church chose their pastor. A few years later the Colony of Massachusetts adopted this method to elect civil magistrates. In these early days, little secrecy was afforded the voter in marking his or her ballot. Each party or faction distributed its own ballot among the voters. Frequently printed on colored paper, it was readily possible to determine which ballot the voter selected.
The Australian ballot was introduced in this country in 1888. Under this system, the ballots were printed at public expense by the officials charged with the conduct of elections. The names of all candidates for each office are grouped on the same ballot and the voter indicates his choice by marking an x for each candidate he or she favors. This provided some degree of secrecy for the voter.
During this struggle to permit the people to decide the fate of government by secret ballot, many people sought to perfect a fair, infallible, yet simple method of voting and vote counting by machine.
Thomas A. Edison was a pioneer in this field. His very first patent, issued June 1, 1869, was for an electrographic vote recorder, which he built in the hope it might be used in Congress. While never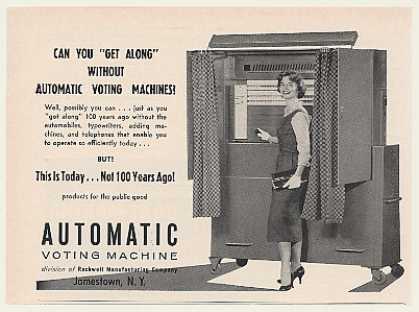 adopted for public use, his ideas paved the way for voting machines today.
The first voting machine used in an election (in Lockport, New York, in 1892) was the invention of safemaker Jacob H. Meyers. It was a massive device, too cumbersome for wide spread use. Four years later, the United States Voting Machine Company of Jamestown marketed an improved device which soon secured widespread use throughout New York State. This organization was the parent of the Automatic Voting Machine Corporation of Jamestown, New York, that manufactured the AVM voting machines. Samuel R. Shoup followed this example, built his own lever voting machine and founded the Shoup Voting Machine Corporation in 1905. The two rivals grew to dominate the American market. By 1928, one of six citizens voted on an AVM or Shoup voting machine.   Many of these machines were still working and used in the 2000 presidential election. They were only eradicated due to the Help America Vote Act of 2002.
Interestingly, about 5,100 old lever machines were brought out of retirement and used in New York's mayors race in the fall of 2013. Though they were replaced with a $95 million electronic system in 2010, it took 72 days to determine the winner of a special election for State Senate in Brooklyn in 2012. The Board of Elections determined that it couldn't collect, reprogram and test all of the electronic machines in the three weeks between the September 10 primary and a possible runoff on October 1.
Voting Machines in Louisiana
In Louisiana voting machines were first introduced in Orleans Parish in the early 1940's. They were Shoup machines that were mechanical with a vertical ballot placement which allowed for 500 voting positions. Shoup voting machines were next acquired in East Baton Rouge Parish, Calcasieu Parish and Caddo parish. The original Shoup voting machines remained in service in Louisiana for more than 50 years.

In 1952, former Judge Robert F. Kennon won election as Governor of Louisiana. He decided to challenge the notion that Louisiana was laughable because of corrupt politics.  In the first year of his administration, legislation was passed and an appropriation was made to acquire voting machines at state expense for every parish in the state.
The AVM Corporation and the Shoup Voting Machine Corporation were still the biggest manufacturors of voting machines at this time. Neither company could produce the numbers of machines required to fill the Louisiana order within the time specified, so the machines were ordered from both manufacturers and would be placed in whole congressional districts.
Since Orleans, East Baton Rouge, Calcasieu and Caddo already had some Shoup voting machines, the congressional districts 1, 2, 4, 6 & 7 would all get Shoup voting machines. There were 34 parishes in these five congressional districts. The rest of the state that included congressional districts 3, 5 & 8 were slated to get the AVM machines. Both machines had the same capacity (500 voting levers) and all the same security features as required by the Voting Machine Law of 1952. The AVM machine was different only in that the ballot presentation was horizontal and mostly at eye level with the voter. Additionally, the top part of the voting machine descends into the lower case that facilitates handling when transporting from storage to precinct and back.

Voting machines were in the custody and control of Secretary of State Wade O. Martin, Jr. , a veteran of many years in public office. Immediately after the passage of the Voting Machine Law in the l952 legislative session, which allocated $1,500,000 for the purchase of voting machines in parishes in which voting machines were not presently in use,  arrangements to provide for the receipt and storage of these massive devices (1000 pounds) began. The law provided that at least one voting machine would be purchased for each precinct in the state with additional machines provided under a formula that would allow one machine for every 400 registered voters or major part thereof. Consolidation of precincts, which was and continues to be the duty of the parish governing authority, eliminated many small precincts to make for a more efficient use of the machines.
After acquiring the new machines, drayage contracts were negotiated to distribute the voting machines to the respective parishes for permanent storage. Some voting machines were delivered by boat or barge, as there were a number of voting precincts isolated by water. Bayou Chene, Atchafalaya, Stephensville and Belle River in St. Martin Parish had permanently assigned machines. Pecan Island in Vermilion Parish was another as were Pilottown, Ostrica and Olga in Plaquemines Parish.
The secretary of state set up an election department within his office and began to assemble and train a full time staff of service technicians to maintain the voting machines in all 64 parishes. Besides training staff for operating and maintaining the new voting machines the secretary of state embarked on a large scale public education program. Parish clerks of court, who were and still are the chief election officials at the parish level, were extensively involved in demonstrating the new voting device that would change the election process in Louisiana forever.
Voting machines were placed in each courthouse where visitors and interested citizens had the opportunity to familiarize themselves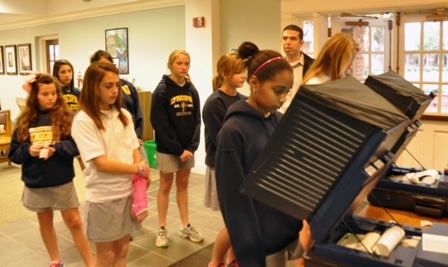 with the operation of this newest addition to the election process in Louisiana.
Universities, high schools, civic and church groups were offered the use of voting machines for their private elections and thereby gave more people the opportunity to learn the very simple procedure of voting on a mechanical voting machine. It was believed then, as it is today that to start the process of inculcation with the youth of our state would eventually arouse the interest of the older segment of our population. It worked very well. Thousands of people had the opportunity for hands on experience with the mechanical giant before an official election would be held. To this day, Louisiana proudly offers this service for private elections through the outreach division.
Voting Systems in Louisiana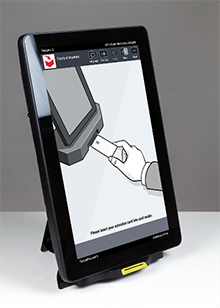 For early voting beginning in the fall of 2019, all Louisiana voters will use the ImageCast® X (or "ICX") voting system leased from Dominion Voting Systems. Early voting is held 14 to seven days prior to any scheduled election at each Registrar of Voters Office or at designated locations in the parish.
On this small and easy to operate touchscreen system, the voter will scroll through their entire ballot to vote. The election results are easily printed and stored on a cartridge that is delivered to the Parish Board of Election Supervisors for tabulation on Election Day.
The ICX unit was designed as a voting solution for all and offers several options for voters with accessibility needs to vote in a private and independent manner. The ICX offers the following user interfaces:
Visual mode: The voter navigates their ballot using one of the available accessibility tools and the visual display.
Audio mode: The visual display can be disabled, and the voter uses headphones to navigate an audio ballot using one of the available accessibility tools.
Visual and audio mode: The voter navigates their ballot using one of the available accessibility tools, the visual display and the audio ballot.
In addition to the touchscreen functionality, the ICX is compatible with a range of accessibility tools that voters can use to navigate through the ballot and make their selections. The system is compatible with accessibility devices such as the Audio Tactile Interface (ATI) handheld controller, a four-way joystick, a sip and puff device or a paddle device. The ATI has raised keys that are identifiable tactilely without activation (e.g., raised buttons of different shapes and colors, large or Braille numbers and letters), can be operated with one hand and includes a 3.5 mm headphone jack. The images below include what a voter selecting an accessible voting device will see on the machine and what the ATI looks like.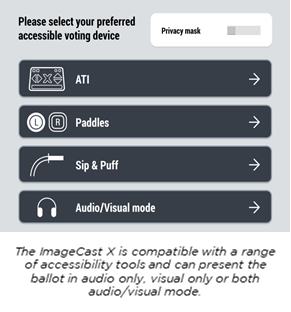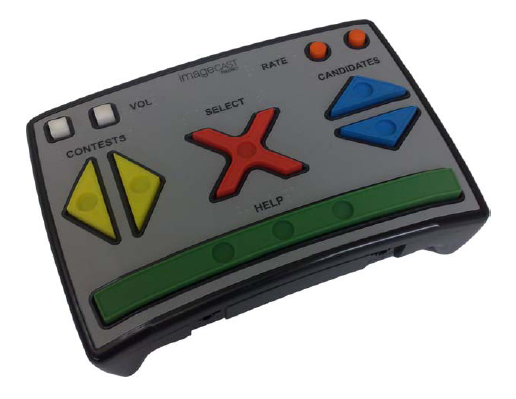 Beginning with the Fall of 2006, all of Louisiana's voters began using the AVC Advantage voting systems for election day voting. On this direct recording electronic voting system, the entire ballot appears on the screen.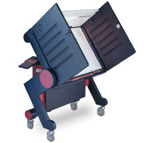 Over a period of 15 years, the state began procuring these voting systems for 12 parishes in Louisiana. Since 2005, federal funds which were awarded through the Help America Vote Act of 2002 were used to procure voting systems for the remainder of the state.
The ballot has large type and is easy to read. The AVC Advantage voting system is wheelchair accessible and is capable of using an audio voting keypad, available for voters with disabilities. The election results are easily printed and stored on a cartridge which is delivered to the clerk of court after the polls are closed.
Since 2006, Louisiana's voters have had access to using the AVC Audio Handset, which makes the AVC Advantage voting system accessible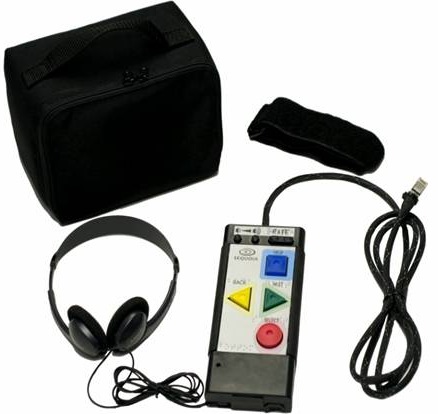 to individuals who are visually impaired, physically disabled, struggle with the written word, unable to read the written word, or unable to read English.
There are no requirements for a voter to use the AVC Audio Handset.