Summary
Current Position: US Senator since 2017
Affiliation: Republican
Former Position(s): Secretary of the Louisiana Department of Revenue from 1996 – 2015
Featured Quote: 
Quitting a social media account or web app shouldn't be hard. My Click to Quit Act would give users a quick and sure way to delete unwanted accounts.
Featured Video: 
'One Of My Constituents Got This In The Mail': John Kennedy Presents Surprising Letter At Hearing
News
WASHINGTON – Sen. John Kennedy today introduced the Seniors Saving on Insulin Act and the Vital Medication Affordability Act to help make insulin and epinephrine more affordable for Louisianians.

"Hundreds of thousands of Louisianians rely on lifesaving medications like insulin and epinephrine, and 12 percent of adults in our state have diabetes. Our people need access to affordable medications, especially when our state is recovering from historic storms. My bills would make insulin more affordable for seniors on Medicare and ensure that key health centers pass along discounts on insulin and epinephrine to patients," said Kennedy. 

The Seniors Saving on Insulin Act would codify as law the Part D Senior Savings Model, which provides Medicare patients with plans that offer affordable insulin. The bill would ensure that Medicare patients could buy a month's supply of insulin at no more than $35. One-third of Medicare users have diabetes, and more than 3 million Medicare patients rely on insulin. Research has shown that affordable medications make patients more able to care for their health consistently, which improves health outcomes and lowers health care costs in the long term.
The Vital Medication Affordability Act would require federally qualified health centers (FQHCs), which serve poor, uninsured and rural residents, to pass along their savings on insulin and epinephrine to their patients. FQHCs can purchase prescription drugs at a discount through the 340B Drug Pricing Program. Kennedy's legislation would make FQHCs offer these discounts on insulin and epinephrine to many patients who otherwise could not afford these medications.
Text of the Seniors Saving on Insulin Act is available here.
Text of the Vital Medication Affordability Act is available here.
Twitter
About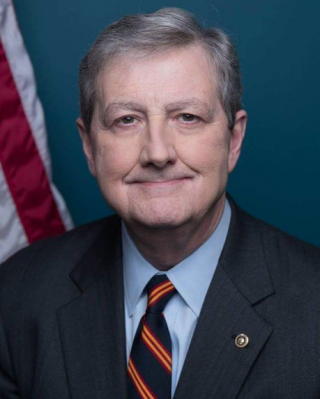 Source: Government page
Sen. Kennedy served as secretary of the Department of Revenue, special counsel to Gov. Roemer and secretary of Gov. Roemer's cabinet. He was also an attorney and partner in the Baton Rouge and New Orleans law firm of Chaffe McCall.
Sen. Kennedy graduated magna cum laude in political science, philosophy, and economics from Vanderbilt, was president of his senior class, and was elected to Phi Beta Kappa. He received his law degree from the University of Virginia School of Law, where he was an executive editor of the "Virginia Law Review" and elected to the Order of the Coif. He earned a Bachelor of Civil Law degree with first class honors from Oxford University (Magdalen College) in England, where he studied under Sir Rupert Cross and Sir John H. C. Morris.
Sen. Kennedy has written and published the following books and articles: "Louisiana State Constitutional Law," "The Dimension of Time in the Louisiana Products Liability Act," "The Role of the Consumer Expectation Test Under Louisiana's Products Liability Doctrine," "A Primer on the Louisiana Products Liability Act," "Assumption of the Risk, Comparative Fault and Strict Liability After Rozell," and "The Federal Power Commission, Job Bias and NAACP v. FPC."
Sen. Kennedy served as an adjunct professor at Louisiana State University's Paul M. Hebert Law Center from 2002 to 2016. He regularly volunteers as a substitute teacher in Louisiana public schools. He resides in Madisonville, Louisiana, with his wife Becky and their dogs, Charlie and Jack. The Kennedy's are founding members of their local Methodist church.
Voting Record
Caucuses 
Senate Republican Conference
Offices
Washington, D.C.
416 Russell Senate Building
Washington, DC 20510
(202) 224 4623
*Meetings by Appointment Only*
Alexandria
6501 Coliseum Blvd., Suite 700A
Alexandria, LA 71303
(318) 445 2892
*Meetings by Appointment Only*
Baton Rouge
7932 Wrenwood Blvd., Suite A & B
Baton Rouge, LA 70809
(225) 926 8033
*Meetings by Appointment Only*
Houma
Government Towers
8026 Main St., Suite 700
Houma, LA 70360
*Meetings by Appointment Only*
Lafayette
315 S. College Road Suite 140
Lafayette, LA 70503
(337) 269 5980
*Meetings by Appointment Only*
Lake Charles
814 West McNeese Street Suite 213
Lake Charles, LA 70605
(337) 573-6800
*Meetings by Appointment Only*
Mandeville
21490 Koop Dr.
Building A
Mandeville, LA 70471
*Meetings by Appointment Only*
Monroe
1651 Louisville Ave., Suite 148
Monroe, LA 71201
(318) 361 1489
*Meetings by Appointment Only*
New Orleans
500 Poydras St., Suite 364
New Orleans, LA 70130
(504) 581 6190
*Meetings by Appointment Only*
Shreveport
401 Market St., Suite 1050
Shreveport, LA 71101
(318) 670 5192
*Meetings by Appointment Only*
Contact
Email:
Web
Government Page, Twitter, YouTube, Facebook
Politics
Source: none
Campaign Finance
Open Secrets – We Follow the Money
Voting Record
VoteSmart – Key Votes & Ratings
Search
Wikipedia Entry
John Neely Kennedy (born November 21, 1951), is an American lawyer and politician who has served as the junior United States senator from Louisiana since 2017. A Democrat turned Republican, he served as the Louisiana State Treasurer from 2000 to 2017.
Born in Centreville, Mississippi, Kennedy graduated from Vanderbilt University and the University of Virginia School of Law before attending Magdalen College, Oxford. He was a member of Governor Buddy Roemer's staff before running for state attorney general in the 1991 election. In 1999, he was elected state treasurer; he was reelected to that position in 2003, 2007, 2011, and 2015. Kennedy was an unsuccessful candidate for U.S. Senate in 2004 and 2008. In 2007, he switched parties and became a Republican.
In 2016, when U.S. Senator David Vitter opted not to seek reelection, Kennedy once again ran for Senate. He finished first in the November nonpartisan blanket primary and defeated Democrat Foster Campbell 61–39% in the December runoff. He was sworn in on January 3, 2017. Kennedy was one of six Republican senators to object to the certification of Arizona's electors in the 2020 presidential election.
Kennedy is running for reelection to a second term in the 2022 election.[2]
Early life and education
Kennedy was born in Centreville, Mississippi, and raised in Zachary, Louisiana. After graduating from Zachary High School as co-valedictorian in 1969, he entered Vanderbilt University, where his interdepartmental major was in political science, philosophy and economics. He graduated magna cum laude.
At Vanderbilt, Kennedy was elected president of his senior class and named to Phi Beta Kappa. He received a Juris Doctor in 1977 from the University of Virginia School of Law in Charlottesville, Virginia, where he was an executive editor of the Virginia Law Review and elected to the Order of the Coif.[3] In 1979, he earned a Bachelor of Civil Law degree with first class honours from Magdalen College, Oxford,[4][5] where he studied under Sir Rupert Cross and John H.C. Morris.
Early career
Kennedy has written and published the following books and articles: Louisiana State Constitutional Law (LSU Publications Institute, Jan. 1, 2012), The Dimension of Time in the Louisiana Products Liability Act (42 Louisiana Bar Journal, Jan. 1, 1994), The Role of the Consumer Expectation Test Under Louisiana's Products Liability Doctrine (69 Tulane Law Review 117, Jan. 1, 1994), A Primer on the Louisiana Products Liability Act (49 Louisiana Law Review 565, Jan. 1, 1989), Assumption of the Risk, Comparative Fault and Strict Liability After Rozell (47 Louisiana Law Review 791, Jan. 1, 1987) and The Federal Power Commission, Job Bias, and NAACP v. FPC (10 Akron Law Review 556, Jan. 1, 1977).
Kennedy was a partner in the New Orleans law firm Chaffe McCall. He also served as an adjunct professor at Louisiana State University's Paul M. Hebert Law Center in Baton Rouge from 2002 to 2016.[6]
Early political career
In 1988, Kennedy became special counsel to Governor Buddy Roemer.[7] In 1991, he was appointed as cabinet secretary and served in that post until 1992. In 1991, he was an unsuccessful Democratic candidate for state attorney general to succeed the retiring William J. Guste.[8]
Following his first stint in state government, Kennedy returned to private law practice until 1996. That year, he was appointed secretary of the state Department of Revenue in the cabinet of Governor Mike Foster.[9]
Treasurer of Louisiana
Kennedy left the Foster administration when he was elected Louisiana State Treasurer in 1999, having unseated incumbent Democrat , 621,796 votes (55.6%) to 497,319 (44.4%).[10] Kennedy was reelected treasurer without opposition in 2003, 2007 and 2011.[11] In 2015, he defeated his sole challenger with 80% of the vote.
In the 2004 election, Kennedy endorsed Democratic presidential candidate John Kerry over George W. Bush.[12]
After being courted by the Republican Party for months, Kennedy announced in a letter to his constituents that he was leaving the Democratic Party and joining the Republicans, effective August 27, 2007. In his letter, he announced that he would run again for state treasurer.[13]
During his third term as state treasurer, Kennedy devised a 24-point plan by which the state could save money.[14] Governor Bobby Jindal said Kennedy could "streamline" his own department. Many of Kennedy's ideas were derived from the Louisiana Commission for Streamlining Government, on which he served in his official capacity as state treasurer.[15]
U.S. Senate
Elections
2004
In 2004, Kennedy ran for the U.S. Senate seat held by John Breaux, who was retiring. He ran as a Democrat in the state's jungle primary, losing to Republican David Vitter and Democrat Chris John.[16] Vitter won the election outright.[13][17]
2008
Kennedy ran for the Senate again in 2008, this time as a Republican. He was defeated, 52.1% to 45.7%, by incumbent Democratic Senator Mary Landrieu; the same year, Republican presidential nominee John McCain defeated Barack Obama in Louisiana, but Obama was elected.[18][19]
2016
On January 26, 2016, Kennedy announced that he would run for Senate a third time. In seeking to succeed the retiring Vitter, he faced more than 20 opponents.[20] Vitter announced his retirement from the Senate in 2015 after losing a bid for governor to John Bel Edwards.[21]
Kennedy's senatorial campaign was endorsed by the U.S. Chamber of Commerce, the National Federation of Independent Business, the National Rifle Association, the National Right to Life Committee, the American Conservative Union, Vice President-elect Mike Pence and President-elect Donald Trump.[22][23] Kennedy, who had supported Vitter for governor the previous year, won the jungle primary and faced Democrat Foster Campbell in a December 10 runoff election. President-elect Donald Trump—who had received Kennedy's support in the 2016 presidential election[24]—campaigned for Kennedy the day before the runoff.[25] Kennedy defeated Campbell, 536,204 votes (61%) to 347,813 (39%). He lost the largest populated parishes of Orleans and East Baton Rouge, in which he had been reared, but was a runaway winner in Campbell's home parish of Bossier.[26]
Tenure
Kennedy was sworn in as Louisiana's junior U.S. Senator on January 3, 2017. On March 10, 2021, the Center for Effective Lawmaking ranked Kennedy as one of the top 10 most effective Republican senators of the 116th Congress, and as the most effective GOP senator in the areas of commerce, education, and trade.[27]
On July 29, 2021, President Joe Biden signed Kennedy's DUMP Opioids Act into law, making that Kennedy's eighth piece of legislation to become law in his first term as a U.S. senator.[28] Kennedy has authored more bills signed into law than any first-term senator from Louisiana except Newton Blanchard, who is tied with Kennedy.[29]
In June 2017, Kennedy "grilled" Education Secretary Betsy DeVos in a hearing before the Appropriations subcommittee on Labor, Health and Human Service, Education and Related Agencies. In the exchange, he contrasted the lack of school choice available to younger pupils in many rural areas of the country with the numerous brands of mayonnaise available at grocery stores: "Now I can go down to my overpriced Capitol Hill grocery this afternoon and choose among about six different types of mayonnaise. How come I can't do that for my kid?" Kennedy asked. The remark attracted national attention. DeVos replied that the Trump administration budget proposal would give parents and students more power and opportunity so that American education could again become "the envy of the world".[30]
Kennedy has attracted comment for his manner in the Senate. A January 2018 Huffington Post article reported: "Since being elected to the Senate a year ago, Kennedy … has made a name for himself on Capitol Hill with his wit, humor and penchant for folksy expressions―a notable feat in a place where jargon and arcane procedure tend to reign supreme".[31]
In the months leading up to the 2019 election, Kennedy was mentioned as a prospective candidate for governor in the jungle primary against Democratic incumbent John Bel Edwards, but on December 3, 2018, he announced that he would not run for governor, saying he preferred to remain in the Senate.[32]
2020 presidential election
Kennedy announced that he would, along with 11 other Republican senators, object to certain states' electoral votes in the 2021 United States Electoral College vote count on January 6, unless there was an audit of the vote,[33][34][35] He was participating in the certification when Trump supporters stormed the United States Capitol. He described the attack as "despicable and shameful" and called for the rioters "to go to jail and pay for the destruction they caused."[36] When the Capitol was secured and Congress returned to complete the certification, Kennedy objected to the certification of Arizona's electoral votes.[37][38]
Committee assignments
Caucuses
Political positions
Kennedy received a lifetime Liberty Score of 65% from Conservative Review.[39] He holds a score of 89% for the 116th Congress and a lifetime score of 78% from Heritage Action for America.[40] The American Conservative Union's Center of Legislative Accountability gives Kennedy a lifetime rating of 83.74.[41] His Humane Society Legislative Fund rating has ranged between 67% (2019) and 28% (2017), with his last (2020) at 57%.[42] On infrastructure, the National Association of Police Organizations rates Kennedy at 60% and the American Federation of Labor and Congress of Industrial Organizations (AFL-CIO) has assigned him a rating of 8% on matters concerning labor unions.[42]
Animal rights
Kennedy said he would file a bill to "prohibit airlines from putting animals in overhead bins" after a dog died in an overhead bin while flying United Airlines in March 2018.[43] He said "officials would face significant fines" if noncompliant.[44] In March 2018, Kennedy introduced the Welfare Of Our Furry Friends (WOOFF) Act, but the bill died in committee.[45]
Abortion
Kennedy is "strongly opposed" to abortion.[46]
Banking
In March 2019, Kennedy introduced the Holding Foreign Companies Accountable Act, which became law on December 18, 2020.[47] The law prohibits any company from listing on an American stock exchange if it refuses to allow the Public Companies Accounting Oversight Board to audit its annual private audit for three consecutive years. It also requires companies to disclose whether they are owned by a foreign government.[48]
Greenhouse emissions
In 2019, Kennedy introduced the American Innovation and Manufacturing Act,[49] co-sponsored by Senator Tom Carper as an amendment to the American Energy Innovation Act. It would direct the Environmental Protection Agency to phase down production and consumption of hydrofluorocarbons over the next 15 years.[50] Hydrofluorocarbons are potent greenhouse gases used primarily as coolants in refrigerators and air conditioning systems. The American Innovation and Manufacturing Act became law in December 2020 as part of the annual government funding bill.[51]
Guns
Kennedy has an "A" rating from the National Rifle Association (NRA), which endorsed him during his 2016 Senate run.[52][53]
Judicial nominees
Kennedy crossed party lines to oppose the appointment of three of Trump's U.S. District Court judicial nominees who Kennedy believed were not qualified: Jeff Mateer, Brett Talley, and Matthew S. Petersen. The White House withdrew all three nominations.[54] On December 13, 2017, during Petersen's confirmation hearing before the Senate Judiciary Committee, Kennedy asked Petersen about basic legal procedure,[55] whether he knew what the Daubert standard was, and what a motion in limine was. Petersen struggled to answer.[56][57] Kennedy also voted against the nomination of Gregory G. Katsas to the D.C. Circuit, but Katsas was confirmed.[58]
Criminal justice
Kennedy opposed the First Step Act, a bipartisan criminal justice reform bill. The bill passed 87–12 on December 18, 2018.[59]
Net neutrality
On March 7, 2018, Kennedy introduced a bill that would "prohibit companies like Comcast and Verizon from blocking or throttling web content."[60] He was one of three Republican senators, with Susan Collins and Lisa Murkowski, to vote with the entirety of the Democratic caucus on May 16, 2018, to overturn the FCC's repeal of net neutrality.
Foreign policy
In April 2018, Kennedy was one of eight Republican senators to sign a letter to United States Secretary of the Treasury Steve Mnuchin and acting Secretary of State John Sullivan expressing "deep concern" over a report by the United Nations exposing "North Korean sanctions evasion involving Russia and China" and asserting that the findings "demonstrate an elaborate and alarming military-venture between rogue, tyrannical states to avoid United States and international sanctions and inflict terror and death upon thousands of innocent people" while calling it "imperative that the United States provides a swift and appropriate response to the continued use of chemical weapons used by Syrian President Bashar al-Assad and his forces, and works to address the shortcomings in sanctions enforcement."[61]
In January 2019, Kennedy was one of 11 Republican senators to vote to advance legislation intended to block Trump's intent to lift sanctions against three Russian companies.[62]
January 6 commission
On May 28, 2021, Kennedy voted against creating a commission proposed by House Speaker Nancy Pelosi[63] to investigate the United States Capitol attack that occurred on January 6, 2021.[64][65]
Personal life
Kennedy resides in Madisonville in St. Tammany Parish outside New Orleans with his wife, Becky. He is a founding member of his local Methodist church in Madisonville.[6] Despite sharing the first and last name of the 35th President of the United States, he is not related to the Kennedy family of Massachusetts.[66]
Electoral history
Louisiana United States Senate election, 2004

Party
Candidate
Votes
%
±%
Republican
David Vitter
943,014
51.03%
Democratic
Chris John
542,150
29.34%
Democratic
John Kennedy
275,821
14.92%
Democratic
Arthur A. Morrell
47,222
2.56%
Independent
Richard M. Fontanesi
15,097
0.82%
Independent
R. A. "Skip" Galan
12,463
0.67%
Democratic
Sam Houston Melton, Jr.
12,289
0.66%
Majority
400,864
21.69%
Turnout
1,848,056
Republican gain from Democratic
2016 Louisiana US Senate blanket primary[67]
Party
Candidate
Votes
%
Republican
John Kennedy
482,591
25.0%
Democratic
Foster Campbell
337,833
17.5%
Republican
Charles Boustany
298,008
15.4%
Democratic
Caroline Fayard
240,917
12.5%
Republican
John Fleming
204,026
10.6%
Republican
Rob Maness
90,856
4.7%
Republican
David Duke
58,606
3.0%
Democratic
Derrick Edwards
51,774
2.7%
Democratic
Gary Landrieu
45,587
2.4%
Republican
Donald "Crawdaddy" Crawford
25,523
1.3%
Republican
Joseph Cao
21,019
1.1%
No party
Beryl Billiot
19,352
1.0%
Libertarian
Thomas Clements
11,370
0.6%
No party
Troy Hebert
9,503
0.5%
Democratic
Josh Pellerin
7,395
0.4%
Democratic
Peter Williams
6,855
0.4%
Democratic
Vinny Mendoza
4,927
0.3%
No party
Kaitlin Marone
4,108
0.2%
Libertarian
Le Roy Gillam
4,067
0.2%
Republican
Charles Eugene Marsala
3,684
0.2%
Republican
Abhay Patel
1,576
0.1%
No party
Arden Wells
1,483
0.1%
Other
Bob Lang
1,424
0.1%
Other
Gregory Taylor
1,151
0.1%
Total
1,933,635
100
Selected publications
Kennedy has written and published the following books and articles:
See also
References
External links
Issues
Source: Government page
Committees
Committee on Appropriations

Subcommittee on Agriculture, Rural Development, Food and Drug Administration, and Related Agencies
Subcommittee on Commerce, Justice, Science, and Related Agencies
Subcommittee on Energy and Water Development
Subcommittee on Financial Services and General Government

Committee on Banking, Housing, and Urban Affairs

Subcommittee on Economic Policy
Subcommittee on Financial Institutions and Consumer Protection
Subcommittee on Housing, Transportation, and Community Development

Committee on the Budget
Committee on the Judiciary

Subcommittee on Border Security and Immigration
Subcommittee on Crime and Terrorism
Subcommittee on Privacy, Technology and the Law
Subcommittee on Intellectual Property

Committee on Small Business and Entrepreneurship
Legislation
Sponsored and Cosponsored
Issues
I want an America and a Louisiana where every person can get a decent job. But you can't be for jobs if you're against business, and you can't be for business if you're writing rules that tie the hands of our job creators. In the 1950s, only one American worker in 20 needed a government permit. Today, it's one in three.
In my view, if you want to start a landscaping business, all you should need is a lawnmower: not a lawnmower, a lawyer, a CPA, and a compliance officer. We've already begun the process of repealing regulations to streamline the government contracting and infrastructure authorization processes to make them more competitive.
As a member of the Small Business and Entrepreneurship Committee, I am committed to promoting policies that will bring good paying jobs back to Louisiana, reduce red tape, and offer Louisiana's hardworking small business owners some much needed tax relief.
As I continue to travel around our state, I hear Louisianans talk about how devastating Obamacare has been for their families and small businesses. I remain committed to replacing Obamacare with a health care system that looks like it was designed on purpose. I want a country and a state in which a mother can take her sick child to a family doctor instead of an emergency room because her family has effective, affordable health insurance from the private sector.
Right now, the U.S. spends more money on health care each year than the entire government budgets of all but five countries. Americans should not be forced to buy insurance they don't like at prices they can't afford. Here's what we need instead: more choice, more competition, less fraud, and a health care delivery system that puts patients and their doctors in charge instead of Washington politicians and bureaucrats.
This year, many of Louisiana's 64 parishes are again recovering from some kind of natural disaster. Families and businesses across our state rely on the National Flood Insurance Program (NFIP) for insurance protection from future floods and hurricanes. But the NFIP is broken. A flood insurance program isn't doing its job if it's too expensive to afford, or if it allows bad actors to take from hardworking families struggling to get back on their feet.
We need simpler rules, affordable premiums, quicker decisions by government bureaucrats, accountability for contractors, government websites that a normal person can navigate, and government workers who answer the phone. When a disaster strikes, our families need a smiling face and a hand to help them pick up the pieces—not a Washington bureaucrat with a stack of paperwork.
I've introduced bipartisan legislation that would not only extend the NFIP, but would encourage lower premiums and invest into mitigation projects for families, helping Louisiana to be better prepared for the next storm.
Recovering from a natural disaster is about more than rebuilding structures: It's about restoring our communities. Since coming to Congress, I have fought hard to ensure that federal disaster assistance, low-interest disaster loans, and NFIP payments are going to the Louisianians who need them—not just into the pockets of contractors and bureaucrats.
I will continue fighting to ensure that Louisiana has the time and resources needed to come back from hurricanes, floods, and other natural disasters stronger and better prepared than ever.
I want us to live in a country and a state that respects taxpayer dollars. Washington spending is out of control, our budget process doesn't work, and our nation is more than $25 trillion in debt.
I support a balanced budget amendment to the U.S. Constitution, and I will continue working aggressively to end waste, duplicative programs, and fraudulent or improper payments. Our country started out self-reliant, lightly-taxed, and debt-free: It's time to get back to our roots.
All life is precious and a gift from God, whether that life is 82 years old, 82 seconds old, or unborn. In my time in the Senate, I have made protecting life a priority by cosponsoring several pieces of legislation that would prohibit taxpayer dollars from going to Planned Parenthood; protect born-alive survivors of attempted abortions; and defend conscience protections for health care providers, insurers, and business owners.
I remain focused on supporting families who adopt or foster children and funding pro-life crisis pregnancy centers. The greatest thing we can do as a society is cherish and defend God-given life. I'll never stop standing for the most vulnerable among us. I will always defend the rights of the unborn.
Education has the power to change lives. No parent should have to send his or her child to a failing school. Too many of our kids are trapped in schools where violence is more common than learning.
I've been a substitute teacher in Louisiana public schools for years, so I've seen firsthand that quality education is the key to Louisiana's future. Improving our education system starts with getting the federal government out of our curriculum and classrooms and with giving teachers the resources and authority they need to do their jobs. We need to take taxpayer money and invest it in bettering schools—schools that work for young Louisianians.