Summary
Current Position: US Representative for LA District 6 since 2015
Affiliation: Republican
Former Position(s): Manager, Louisiana Coastal Protection and Restoration Authority. from 2008 – 2014
Featured Quote: 
Featured Video: 
Rep. Graves talks with WAFB about migrants and asylum-seekers dropped off in the community
News
WASHINGTON, DC – U.S. Congressman Garret Graves and Louisiana's Congressional Delegation are urging the U.S. Army Corps of Engineers (Corps) to speed up the completion of the Blue Roof Program.
"The Blue Roof Program is moving way too slow. With tens of thousands of damaged roofs across south Louisiana during storm season, the Corps has to expedite getting these homes protected otherwise damages will be exacerbated," Graves said.
The congressional members asked earlier this month for the Federal Emergency Management Agency (FEMA) to work with the U.S. Army Corps of Engineers to reevaluate its determination of eligibility for certain parishes for the Blue Roof program due to substantial damages from Hurricane Ida. Ten additional parishes were then included in the Blue Roof Program.
Twitter
About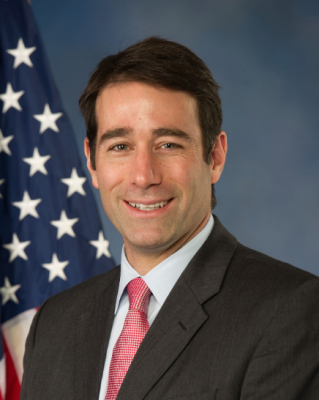 Source: Government page
Congressman Garret Graves represents Louisiana's Sixth Congressional District in the United States House of Representatives.  More than 750,000 people live in the 13 parishes that make up the sixth district, which includes most of Garret's hometown of Baton Rouge, the bulk of the Capital City's suburbs, parts of parishes along both sides of the Mississippi River to the western shores of Lake Pontchartrain and continues south through Thibodaux to Houma.For the 116th Congress, Garret is the Ranking Member for the House Transportation and Infrastructure Subcommittee on Aviation and is the Ranking Member for the new Select Committee on the Climate Crisis.  He also serves on the House Natural Resources.
Last Congress, Graves chaired the Subcommittee on Water Resources and Environment and was instrumental in the development, passage and enactment of a range of policy wins on rivers, levees, flood protection, coastal issues and Corps of Engineers reforms. He also brought about critical upgrades to federal disaster response and recovery programs, streamlining FEMA operations, creating faster recoveries and helping make communities across the nation more resilient to disaster.
Though he has only been in office a short time, Garret and his team have established a record of advancing Louisiana's priorities through Congress – making a positive difference here at home.
A few more examples:
The Washington St. Exit reconfiguration, I-10 expansions and other road improvements underway are happening because of legislation Garret wrote, helped negotiate, and enacted in 2015.
Garret fought to change federal law to fix the so called "duplication of benefits" fiasco for thousands of 2016 flood victims; and,
He secured full funding for the Comite River Diversion, West Shore and other major flood protection projects that had been stalled for decades. Now they are fast-tracked for completion – which means better protection and lower flood insurance rates for all of us.
Garret's leadership on transportation, infrastructure, energy, maritime, fisheries, coastal restoration, disaster and other issues critical to our state's economy and way of life are an asset in Congress.
Garret is a native of Baton Rouge, Louisiana, where he resides with his wife Carissa and their three children.
Voting Record
Caucuses
Republican Study Committee
Congressional Western Caucus
United States Congressional International Conservation Caucus
Offices
2402 Rayburn House Office Building
Washington, DC 20515
Phone: (202) 225-3901
Fax: (202) 225-7313
Ascension Parish Government Building
Gonzales, LA 70737
Phone: (225) 450-1672
2351 Energy Drive
Suite 1200
Baton Rouge, LA 70808
Phone: (225) 442-1731
Fax: (225) 442-1736
Livingston Parish Government Building
Livingston, LA 70754
Phone: (225) 686-4413
Fax: (225) 442-1736
908 East 1st Street
NSU Campus, Candies Hall, Suite 405
Thibodaux, LA 70301
Phone: (985) 448-4103
Fax: (225) 442-1736
Contact
Email:
Web
Government Page, Campaign Site, Twitter, Facebook, Wikipedia
Politics
Source: none
Campaign Finance
Open Secrets – We Follow the Money
Voting Record
VoteSmart – Key Votes & Ratings
Search
Wikipedia Entry
Garret Neal Graves (born January 31, 1972) is an American politician serving as the United States representative from Louisiana's 6th congressional district. In a runoff election on December 6, 2014, Graves, a Republican, defeated the Democratic candidate, Edwin Edwards.
Early life
Garret Graves was born on January 31, 1972[1] to John and Cynthia (née Sliman) Graves, who was of Lebanese descent; his father owns an engineering firm.[2] He is a Roman Catholic.[3] Graves attended the University of Alabama, Louisiana Tech, and American University, but did not earn a degree.[4]
Career
Graves served as an aide for nine years to former U.S. Representative Billy Tauzin of Louisiana's 3rd congressional district. He was also a legislative aide to the U.S. House Committee on Energy and Commerce, of which Tauzin served as chairman.[2] In 2005, he became an aide for the United States Senate Committee on Commerce, Science and Transportation, serving Republican U.S. Senator David Vitter. He was the staff director for the United States Senate's Subcommittee on Climate Change and Impacts. He also worked for Democratic former U.S. Senator John Breaux, a protege of Edwin Edwards and Vitter's predecessor in the Senate.[5] He served as a chief legislative aide to the U.S. Senate Committee on Environment and Public Works.[6]
In 2008, Governor Bobby Jindal appointed Graves to manage the Louisiana Coastal Protection and Restoration Authority. In the position, he negotiated on behalf of the state with British Petroleum over the Deepwater Horizon oil spill.[5] He resigned the position, effective February 17, 2014.[6]
U.S House of Representatives
Elections
In March 2014, Graves announced his intention to run in the 2014 election to the United States House of Representatives for Louisiana's 6th congressional district; incumbent Republican Bill Cassidy successfully challenged incumbent Democratic U.S. Senator Mary Landrieu.[7]
In the 2014 nonpartisan blanket primary, Edwin Edwards finished in first place with 30 percent of the vote; Graves was the runner-up with 27 percent. Graves and Edwards advanced to the December 6 runoff election.[5] In a runoff election on December 6, 2014, Graves received 139,209 votes (62.4 percent) to Edwards's 83,781 (37.6 percent).[8]
In the nonpartisan blanket primary held in conjunction with the national elections on November 6, 2018, Graves handily won his third term in the U.S. House, having led a four-candidate field with 186,524 votes (69 percent). Democrat Justin Dewitt trailed with 55,078 votes (21 percent). Two other candidate, Democrat "Andie" Saizan and Independent David Lance Graham, held the remaining 3 percent of the ballots cast.[9]
Tenure
In April 2017, Representative Graves became engaged in a public dispute with Democratic Governor John Bel Edwards regarding the disbursement of federal assistance for Louisiana's 2016 flooding victims. Graves, who has been mentioned as a potential challenger to Edwards in the 2019 gubernatorial election, claims that he is "focused on flood recovery … none of the governor's talk is helping flood victims."[10]
Edwards attributed the delay in disbursement of the funds, which began on April 10, to the state's financial shortfall which prevented the quick retaining of a disaster management firm. Edwards' executive counsel, Matthew Block, explained that the state had no money in 2016 to pay the contractor. Edwards currently projects a $440 million budget deficit for the fiscal year that began on July 1, 2017.[11]
Committee assignments[12]
Caucus memberships
Personal life
Graves resides in his native Baton Rouge.[16][6] His wife is Carissa Vanderleest.[17]
See also
References
External links
Issues
Source: Government page
Committees
Committee on Natural Resources

Subcommittee on Energy and Mineral Resources
Subcommittee on Federal Lands

Committee on Transportation and Infrastructure

Subcommittee on Coast Guard and Maritime Transportation
Subcommittee on Highways and Transit
Subcommittee on Water Resources and Environment
Legislation
Learn more about legislation sponsored and co-sponsored by Congressman Graves.
Issues