Summary
Current Position: US Senator since 2015
Affiliation: Republican
Former Position(s): Physician from 1983 – 2015
Featured Quote: 
FEMA and the federal government shouldn't be reinventing the wheel after every disaster. I'm working on legislation to ensure we learn from what works and what doesn't to strengthen our response and better help families recover after natural disasters.
Featured Video: 
Senator Bill Cassidy gives statement after vote to convict Trump
News
WASHINGTON – Today, U.S. Senators Bill Cassidy, M.D. (R-LA), Rob Portman (R-OH), Susan Collins (R-ME), Lisa Murkowski (R-AK), and Mitt Romney (R-UT) issued the following statement, urging the House of Representatives to pass the bipartisan infrastructure bill:
"Passage of the historic bipartisan Infrastructure Investment and Jobs Act on Monday would be a great victory for the American people. It will modernize and upgrade our roads, bridges, ports, and broadband; increase the resiliency of our electric grid and coastal areas; and create jobs and long-term economic growth without raising taxes on everyday Americans or increasing inflation.
"Importantly, this bipartisan bill is a testament to what Congress can achieve when we put partisanship aside and focus on moving the country forward. Congress has talked about modernizing our nation's infrastructure for as long as we can remember. The bipartisan Infrastructure Investment and Jobs Act deserves the support of House Republicans and Democrats alike. We urge the House of Representatives to pass the bill on Monday when it comes up for a vote before the existing surface transportation authorization expires."
Twitter
About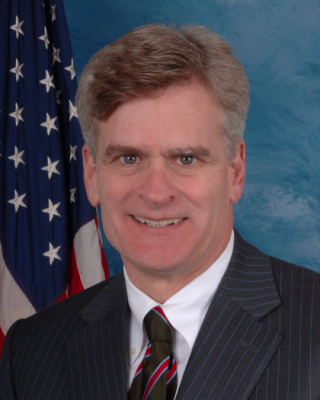 Source: Government page
Dr. Bill Cassidy is the United States Senator for Louisiana.
Bill grew up in Baton Rouge, Louisiana, and attended Louisiana State University (LSU) for undergraduate and medical school. In 1990, Bill joined LSU Medical School teaching medical students and residents at Earl K. Long Hospital, a hospital for the uninsured.
During this time, he co-founded the Greater Baton Rouge Community Clinic, a clinic providing free dental and health care to the working uninsured. Bill also created a private-public partnership to vaccinate 36,000 greater Baton Rouge area children against Hepatitis B at no cost to the schools or parents. In the wake of Hurricane Katrina, Bill led a group of health care volunteers to convert an abandoned K-Mart building into an emergency health care facility, providing basic health care to hurricane evacuees.
In 2006, Bill was elected to the Louisiana State Senate.
In 2008, he was elected to the United States House of Representatives to represent Louisiana's Sixth Congressional District.
In 2014, he was elected to the U.S. Senate. He serves on the Finance Committee, the Health, Education, Labor, & Pensions Committee, the Energy and Natural Resources Committee, and the Veterans Affairs committees.
Bill is married to Dr. Laura Cassidy and they have three children. Laura is a retired general surgeon specializing in breast cancer. She helped found a public charter school to teach children with dyslexia. Bill, Laura and their family attend church at the Chapel on the Campus.
Voting Record
Caucuses 
While in the House of Representatives, Cassidy was a member of many congressional caucuses, including the House Tea Party Caucus and Republican Study Committee.
Experience
Work Experience
Senator
Louisiana State Senate
2006 to 2008
Representative
Louisiana's 6th Congressional District
2009 to 2015
Education
Personal
Birth Year: 1957
Place of Birth: Highland Park, IL
Gender: Male
Race(s): Caucasian
Religion: Christian
Spouse:  Laura Layden Cassidy
Children: Meg Cassidy, Kate Cassidy, Will Cassidy
Contact
Email:
Offices
Washington D.C. Office
520 Hart Senate Office Building
Washington, D.C. 20510
Phone: (202) 224-5824
Lafayette Office
101 La Rue France, Ste. 505
Lafayette, LA 70508
Phone: (337) 261-1400
Fax: (337) 261-1490
Shreveport Office
6425 Youree Dr., Ste. 415
Shreveport, LA 71105
Phone: (318) 798-3215
Fax: (318) 798-6959
Monroe Office
1651 Louisville Ave, Ste. 123
Monroe, LA 71201
Phone: (318) 324-2111
Fax: (318) 324-2197
Metairie Office
3421 N. Causeway Blvd, Ste. 204
Metairie, LA 70002
Phone: (504) 838-0130
Fax: (504) 838-0133
Web
Government Page, Twitter, YouTube, Facebook, Campaign Site
Politics
Source: none
Campaign Finance
Open Secrets – We Follow the Money
Voting Record
VoteSmart – Key Votes & Ratings
Search
Wikipedia Entry
William Morgan Cassidy (born September 28, 1957) is an American physician and politician serving as the senior United States senator from Louisiana, a seat he has held since 2015.[1] A member of the Republican Party, he served in the Louisiana State Senate from 2006 to 2009 and in the U.S. House of Representatives from 2009 to 2015.
Born in Highland Park, Illinois, Cassidy is a graduate of Louisiana State University (LSU) and LSU School of Medicine. A gastroenterologist, he was elected to the Louisiana State Senate from the 16th district which included parts of Baton Rouge, in 2006. In 2008, he was elected as the U.S. representative for Louisiana's 6th congressional district, defeating Democratic incumbent Don Cazayoux. In 2014, Cassidy defeated Democratic incumbent Mary Landrieu to represent Louisiana in the U.S. Senate, becoming the first Republican to hold the seat since Reconstruction. He was reelected in 2020.
Cassidy was one of seven Republican senators to vote to convict Donald Trump of incitement of insurrection in his second impeachment trial. As a result, the Republican Party of Louisiana censured him.[2]
Early life and education
William Morgan Cassidy was born in Highland Park, Illinois, one of four sons of Elizabeth and James F. Cassidy, and is of Irish and Welsh descent.[3] He grew up in Baton Rouge and received a Bachelor of Science from Louisiana State University in 1979 and a Doctor of Medicine from LSU School of Medicine in 1983.[4]
Early career
Medicine
Cassidy specialized in the treatment of diseases of the liver at the Earl K. Long Medical Center (LSUMC).[5]
In 1998, Cassidy helped found the Greater Baton Rouge Community Clinic to provide uninsured residents of the greater Baton Rouge area with access to free health care. The Clinic provides low-income families with free dental, medical, mental health, and vision care through a "virtual" approach that partners needy patients with doctors who provide care free of charge.[6]
Cassidy has also been involved in setting up the nonprofit Health Centers in Schools, which vaccinates children in the East Baton Rouge Parish School System against hepatitis B and flu.[7][8]
In the wake of Hurricane Katrina, Cassidy led a group of health care volunteers to convert an abandoned K-Mart into an emergency health care facility, providing basic health care to hurricane victims.[9]
In 2010, Cassidy's alma mater, Louisiana State University, selected him for honoris causa membership in Omicron Delta Kappa, the National Leadership Honor Society.
Politics
Cassidy was first elected to the Louisiana State Senate in 2006 as a Republican. He had previously been a Democrat, supporting Michael Dukakis for president in 1988, donating to Senator Paul Tsongas's 1992 presidential campaign,[10][11] and to Louisiana Democrats Governor Kathleen Blanco in 2003 and 2004 and Senator Mary Landrieu in 2002. In 2013, Cassidy called his donation to Landrieu a "youthful indiscretion", saying that she "got elected and fell into partisan politics… Louisiana hasn't left Mary, Mary has left us." Since 2001, he has mostly contributed to Republican candidates, including Senator David Vitter. According to Cassidy, he switched parties after the extinction of conservative Democrats and because of his frustration with the bureaucracy and inefficiency of the public hospital system.[11][12]
On December 9, 2006, Cassidy won a special election for the District 16 seat in the Louisiana Senate. In his first bid for public office, he defeated veteran State Representative William Daniel, a fellow Republican and Libertarian candidate S.B. Zaitoon.[13] The election was held to replace Jay Dardenne, who vacated the seat he had held since 1992 upon his election as Louisiana Secretary of State. Cassidy was sworn in on December 20, 2006. On October 20, 2007, he was reelected to a full four-year term in the Louisiana State Senate. Cassidy received 76% of the vote against Republican Troy "Rocco" Moreau (15%) and Libertarian Richard Fontanesi (9%).[14]
U.S. House of Representatives
Elections
On November 4, 2008, Cassidy was elected to serve Louisiana's 6th district in the U.S. House of Representatives, defeating incumbent Democratic Congressman Don Cazayoux with 48% of the vote.[15] He likely owed his victory to the independent candidacy of state representative Michael L. Jackson. Jackson finished third with 36,100 votes, more than the 25,000-vote margin separating Cassidy and Cazayoux.
In the 2010 midterm elections, Cassidy easily won a second term, defeating Democrat Merritt E. McDonald of Baton Rouge with 66% of the vote.[16] In the 2012 election, Cassidy was reelected again defeating Rufus Holt Craig, Jr., a Libertarian, and Richard Torregano, an Independent. Cassidy received 79% of the vote.[17]
Tenure
In May 2009, Cassidy partnered with California Representative Jackie Speier to introduce legislation that would amend the House of Representatives rules to require that members of Congress list their earmark requests on their Congressional websites. Previous earmark reform efforts had focused on disclosure of earmarks that were funded by Congress.[18] In June 2010, he introduced the Gulf Coast Jobs Preservation Act to terminate the moratorium on deep water drilling and require the Secretary of the Interior to ensure the safety of deep water drilling operations.[19][20] He worked to ensure that money from the Gulf Coast Restoration Trust Fund which was established in the wake of the BP oil spill, is spent on coastal restoration efforts.[21]
In December 2010, Cassidy voted to extend the tax cuts enacted during the administration of President George W. Bush.[22] He voted for the Constitutional Balanced Budget Amendment of 2011.[23]
In May 2013, Cassidy introduced the Energy Consumers Relief Act of 2013 (H.R. 1582) to require the Environmental Protection Agency (EPA) to submit reports to both the United States Congress and the United States Department of Energy regarding proposed regulation that would have significant compliance costs (an impact of over $1 billion).[24][25] The Department of Energy and Congress would then have the option of stopping or altering the EPA proposal.[24]
In 2013, due to the American Medical Association's decision to officially recognize obesity as a disease, Senators and Representatives, including Cassidy, helped introduce legislation to lower health care costs and prevent chronic diseases by addressing America's growing obesity crisis. Cassidy said the Treat and Reduce Obesity Act could help empower physicians to use all methods and means to fight the condition.[26]
In June 2013, Cassidy supported a House-passed bill that federally banned abortions after 20 weeks of pregnancy.[27] Also in 2013, Cassidy circulated a draft letter opposing an immigration reform bill, asking for signatures. Representative Mark Takano, a high school literature teacher for 23 years, marked it up in red pen like a school assignment and gave it an F, with comments like, "exaggeration — avoid hyperbole," and "contradicts earlier statement."[28]
In 2014 Cassidy co-sponsored an amendment to the Homeowner Flood Insurance Affordability Act in 2014 to limit annual premium increases for flood insurance, reinstate the flood insurance program's grandfathering provision, and eliminate a provision that required an increase to actuarial levels when a home is sold.[29]
Cassidy was a vocal opponent of the Patient Protection and Affordable Care Act (commonly called Obamacare or the Affordable Care Act), arguing that it would fail to lower costs and give too much decision-making authority to the federal government.[30] In September 2014, the House passed the Employee Health Care Protection Act of 2013 (H.R. 3522; 113th Congress), sponsored by Cassidy, enabling Americans to keep health insurance policies that do not meet all of the Affordable Care Act's requirements.[31] In March 2017, Cassidy sent a letter to one of his constituents that falsely asserted that Obamacare "allows a presidentially handpicked 'Health Choices Commissioner' to determine what coverage and treatments are available to you."[32]
Cassidy supported the Lowering Gasoline Prices to Fuel an America That Works Act of 2014 (H.R. 4899; 113th Congress), a bill to revise existing laws regarding the development of oil and gas resources on the Outer Continental Shelf.[33] The bill is intended to increase domestic energy production and lower gas prices.[34][35] He argued that the bill "would allow us to take advantage of our natural resources and expands our energy manufacturing and construction industries."[36]
Committee assignments (113th Congress)
Caucuses
While in the House of Representatives, Cassidy was a member of many congressional caucuses,[38] including the House Tea Party Caucus and Republican Study Committee.[39]
U.S. Senate
Elections
2014
Cassidy ran for the U.S. Senate in the 2014 election, in which he was endorsed by Republican Senator David Vitter. He defeated three-term incumbent Democratic Senator Mary Landrieu in the run-off election held on Saturday, December 6, 2014, receiving 56% of the vote to Landrieu's 44%. It was the first Republican victory for the seat since William P. Kellogg in 1883.[40][41]
2020
Cassidy was reelected in 2020, and won every parish but one.
Tenure
115th Congress
On May 8, 2017, Cassidy appeared on Jimmy Kimmel Live! and discussed health care in the United States.[42] He said that any legislation that he would support must meet the "Jimmy Kimmel test", namely: "Would a child born with congenital heart disease be able to get everything he or she would need in that first year of life?"[43] Kimmel had earlier chastised Republicans for voting to repeal the Affordable Care Act and replace it with legislation that would not ensure protection for children such as his newborn, who was born with a heart defect that required immediate surgery.[43]
In September 2017, Cassidy and Lindsey Graham introduced legislation to repeal and replace the Affordable Care Act. The "Graham–Cassidy" bill would eliminate the ACA's marketplace subsidies, repeal the ACA's Medicaid expansion, and introduce a temporary block grant that would expire in 2026.[44] The legislation would also impose a per-enrollee cap on Medicaid funding.[44] The Kaiser Family Foundation noted that the legislation "would fundamentally alter the current federal approach to financing health coverage for more than 80 million people who have coverage through the ACA (Medicaid expansion or marketplace) or through the traditional Medicaid program."[44] An analysis by the Center for Budget and Policy Priorities found that the legislation "would cut federal health care funding by $299 billion relative to current law" in the year 2027 alone and estimated that it would leave 32 million more Americans without health insurance.[45] President Donald Trump endorsed the bill.[46]
The bill does not meet the "Jimmy Kimmel test", as it would allow states to eliminate requirements to cover children with conditions like that of Kimmel's child.[43] Kimmel condemned Cassidy, calling him a liar,[43] listed the health organizations that opposed Graham–Cassidy, and urged his viewers to contact their Congressional representatives about the legislation.[43] Cassidy responded to Kimmel, saying that Kimmel "doesn't understand" the legislation.[47] Cassidy also said that under Graham–Cassidy, "more people will have coverage" than under the Affordable Care Act. According to the Washington Post fact checker, Cassidy "provided little evidence to support his claim of more coverage… the consensus [among health care analysts] is that his funding formula makes his claim all but impossible to achieve."[47]
117th Congress
Cassidy was participating in the certification of the 2021 United States Electoral College vote count when Trump supporters stormed the United States Capitol. He tweeted during the attack, calling them "hooligans" and the storming "un-American." He later said the participants were guilty of sedition "and should be prosecuted as such."[48] When the Capitol was secure and Congress resumed, Cassidy voted to support the certification of the electoral college count.[49]
On February 9, 2021, Cassidy voted that Trump's impeachment trial was unconstitutional. After the Senate voted that the trial was constitutional, he was one of seven Republicans to vote to convict Trump of inciting insurrection.[50] Hours after the vote, the Republican Party of Louisiana censured him.[2] Cassidy was also praised by several Democrats, including his predecessor Mary Landrieu, whom Cassidy defeated in 2014.[51] On May 27, 2021, along with five other Republicans and all present Democrats, he voted to establish a bipartisan commission to investigate the January 6 storming of the U.S. Capitol. The vote failed for lack of 60 required "yes" votes.[52]
Committee assignments
Caucuses
Political positions
Some regard Cassidy as a moderate Republican.[53] He is ranked highly by conservative organizations. The American Conservative Union's Center for Legislative Accountability gives Cassidy a lifetime rating of 82.79.[54]
Agriculture
In July 2019, Cassidy was one of eight senators to introduce the Agricultural Trucking Relief Act, a bill that would alter the definition of an agricultural commodity to include both horticultural and aquacultural products and promote greater consistency in regulation by federal and state agencies as part of an attempt to ease regulatory burdens on trucking and the agri-community.[55]
Defense
In July 2019 Cassidy was one of 16 Republican senators to send Acting Office of Management and Budget (OMB) Director Russell Vought, Acting White House Chief of Staff Mick Mulvaney, and Treasury Secretary Steven Mnuchin a letter encouraging them to work with them to prevent a continuing resolution "for FY 2020 that would delay the implementation of the President's National Defense Strategy (NDS) and increase costs" and arguing that the yearlong continuing resolution administration officials favored would render the Defense Department "incapable of increasing readiness, recapitalizing our force, or rationalizing funding to align with the National Defense Strategy (NDS)."[56]
Gun law
Cassidy opposes gun control, as he believes it would not stop mass shootings or decrease gun crime.[57]
In January 2019, Cassidy was one of 31 Republican senators to cosponsor the Constitutional Concealed Carry Reciprocity Act, a bill introduced by John Cornyn and Ted Cruz that would grant individuals with concealed carry privileges in their home state the right to exercise this right in any other state with concealed carry laws while concurrently abiding by that state's laws.[58]
Taxes
In 2019, along with Democrats Amy Klobuchar and Doug Jones and Republican Pat Toomey, Cassidy was a lead sponsor of the Gold Star Family Tax Relief Act, a bill that would undo a provision in the Tax Cuts and Jobs Act that raised the tax on the benefit children receive from a parent's Department of Defense survivor benefits plan to 37% from an average of 12% to 15% before the 2017 law. The bill passed in the Senate in May 2019.[59]
On July 30, 2019, Cassidy and Senator Kyrsten Sinema released a proposal under which new parents would be authorized to advance their child tax credit benefits in order to receive a $5,000 cash benefit upon either birth or adoption of a child. The parents' child tax credit would then be reduced by $500 for each year of the following decade. The senators described their proposal as the first bipartisan paid parental leave plan.[60]
Abortion
Cassidy opposes abortion after 20 weeks and any federal funding for abortion.[61]
Personal life
Cassidy's wife, Laura (née Layden), is also a physician; they met during their respective residencies in Los Angeles and married on September 29, 1989.[62] In the early 1990s, both worked at the Earl K. Long Medical Center, where Laura was the hospital's head of surgery. Cassidy worked as a gastroenterologist at the facility until it closed in 2013.[63] They have three children.[64] They are members of The Chapel on the Campus, a nondenominational Christian church that meets on LSU's campus in Baton Rouge.[65]
On August 20, 2020, Cassidy tested positive for COVID-19.[66]
Electoral history
Louisiana State Senate
U.S. House of Representatives
U.S. Senate
United States Senate, Louisiana (2014)[72][73]

Primary election
Party
Candidate
Votes
%
Democratic
Mary Landrieu (incumbent)
619,402
42.08
Republican
Bill Cassidy
603,048
40.97
Republican
Rob Maness
202,556
13.76
Republican
Thomas Clements
14,173
0.96
Libertarian
Brannon McMorris
13,034
0.89
Democratic
Wayne Ables
11,323
0.77
Democratic
William Waymire
4,673
0.32
Democratic
Vallian Senegal
3,835
0.26
Total votes
1,473,826
100.00
General election
Republican
Bill Cassidy
712,379
55.93
Democratic
Mary Landrieu (incumbent)
561,210
44.07
Total votes
1,273,589
100.00
Republican gain from Democratic
United States Senate, Louisiana (2020)[74]

Party
Candidate
Votes
%
Republican
Bill Cassidy (incumbent)
1,228,908
59.32
Democratic
Adrian Perkins
394,049
19.02
Democratic
Derrick Edwards
229,814
11.09
Democratic
Antoine Pierce
55,710
2.69
Republican
Dustin Murphy
38,383
1.85
Democratic
Drew Knight
36,962
1.78
Independent
Beryl Billiot
17,362
0.84
Independent
John Paul Bourgeois
16,518
0.80
Democratic
Peter Wenstrup
14,454
0.70
Libertarian
Aaron Sigler
11,321
0.55
Independent
M.V. "Vinny" Mendoza
7,811
0.38
Independent
Melinda Mary Price
7,680
0.37
Independent
Jamar Montgomery
5,804
0.28
Independent
Reno Jean Daret III
3,954
0.19
Independent
Alexander "Xan" John
2,813
0.14
Total votes
2,071,543
100.00
Republican hold
See also
References
External links
Recent Elections
2014 US Senator
| | | |
| --- | --- | --- |
| Bill Cassidy (R) | 712,379 | 55.9% |
| Mary Landrieu (D) | 561,210 | 44.1% |
| TOTAL | 1,273,589 | |
Finances
CASSIDY, WILLIAM (BILL) has run in 5 races for public office, winning 4 of them. The candidate has raised a total of $23,429,319.
Source: Follow the Money
Voting Record
See: Vote Smart
New Legislation
Source: Congress.gov
Issues
Source: Government page
Committees
Committee on Energy and Commerce
Subcommittee on Health
Subcommittee on Environment and Economy
Subcommittee on Energy and Power
Legislation
Issues
Civil Rights
2nd Amendment Rights
The Second Amendment guarantees law-abiding citizens the right to keep and bear arms. I am proud to have an "A" rating from the National Rifle Association (NRA) because I have and will continue to fight for Louisianans rights that are protected by the Constitution.
Economy
Budget
The national debt is more than $22 trillion. As Chairman of the Senate Subcommittee on Fiscal Responsibility and Economic Growth, I'm making it clear that fiscal responsibility is not an option, but a necessity to ensure the long term financial health of the United States. We must get federal spending under control by cutting wasteful, duplicative programs and ensuring taxpayer dollars are spent wisely. We must also save Medicare and Social Security from bankruptcy so that they are there for Americans who will need them in the future. Taking these steps will help protect our children and grandchildren from mountains of debt they cannot afford.
Education
Education
As a member of the Health, Education, Labor, and Pensions (HELP) Committee, one of my top priorities is ensuring that students have access to quality educations.
Parents and teachers, not federal bureaucrats, make the best education decisions for students.  High standards yield high achievement, and parents should have a right to choose the best educational opportunities for their children. These options include homeschooling, private and parochial schools, charter schools, and public schools.
Environment
Energy and Natural Resources
As chairman of the Senate Energy Subcommittee, I know America's national and economic security depends on a balanced, comprehensive energy policy. We need to unleash American energy, including cleaner-burning natural gas that has created thousands of good-paying jobs for Louisiana families.
Lowering greenhouse gases is important. Louisiana loses a football field of land every 100 minutes due to erosion and rising sea levels. But we need serious solutions, not bumper sticker slogans. Half-baked ideas like the Green New Deal would evaporate jobs and actually increase global emissions by incentivizing manufacturing to move to high-emitting countries like China.
Louisiana and our country can be an example to the world by showing how we can expand cleaner-burning natural gas to create jobs and lower emissions at the same time.
Health Care
Lowering the Cost of Healthcare
For over 25 years, I worked in Louisiana's public hospital system as a doctor treating the uninsured and underinsured. I learned that when the patient has the power, outcomes are better. Right now, laws intended to promote innovation and protect patient safety are being used to increase the cost of prescription drugs. I am working with President Trump to increase price transparency, create more competition to lower health care costs and prescription drug prices.
Immigration
Border Security
We have a crisis on our southern border. I am working with President Trump to stop the flow of illegal drugs and human trafficking into our country.
We must also support the brave men and women of Immigration and Customs Enforcement and uphold our immigration laws to ensure those who want to come to the United States do so through proper, legal channels.
Veterans
Veterans
When our service men and women put themselves in harm's way to defend our lives, our freedoms, we must commit to giving them the care and treatment they deserve when they return home.
We must honor this commitment by ensuring that the health care, benefits, and services promised to our veterans are fully funded and provide the quality of care they deserve. As a member of the Senate Veteran's Affairs Committee, this is my priority.
If you are a veteran or military family in need of assistance obtaining these benefits, please call my office with any questions.
Life & Family Values
Faith and religion have played a vital role in our nation's history. Our Founders' vision was for America to be a place where individuals could practice their religion and express their beliefs freely and openly. It is important that this right is recognized and respected.
This includes protecting the unborn. I am proud to have an "A" from the National Right to Life Committee. As a father of three children, I strongly believe in the right to life. I have and will continue to support pro-life legislation.
Paid Family Leave
As the chairman of the bipartisan Senate Finance Committee working group on paid family leave, I am leading efforts to create a policy that gives parents the flexibility to pursue a career and raise a family. This policy must be fiscally sustainable and not bury taxpayers in even more red ink. We will find a bipartisan solution that empowers families and business owners to succeed.
Taking on Dyslexia
As defined in Section 3635 of the First Step Act: "The term dyslexia means an unexpected difficulty in reading for an individual who has the intelligence to be a much better reader, most commonly caused by a difficulty in the phonological processing (the appreciation of the individual sounds of spoken language), which affects the ability of an individual to speak, read, and spell."
Dyslexia is an issue that is very important to me, both as a parent of a dyslexic child and as a Senator. According to NIH sponsored research, nearly 20 percent of the U.S. population has dyslexia. Dyslexia is unexpected because these bright children struggle to learn to read and write. We must ensure that our federal education policies provide appropriate screening in kindergarten and first grade and an evidence-based education that will help our students with dyslexia succeed.
We must also recognize the role illiteracy plays in our prison incarceration and recidivism rates. Since dyslexia is the overwhelming reason people are illiterate, The First Step Act, which President Trump signed into law, included my provision to screen inmates for dyslexia so they can receive the assistance they need to learn to read, reenter society and break the cycle of incarceration.